The Vautier Family
---
by Dominic Vautier
1/2016
My great great grandfather was Philippe Vautier born in 1786 in the Guernsey Islands and was married to Marie Syvret in 1813. My great grandfather Jean Vautier (1816-1900) married Bridget Glynn (b.1827, Ire., d.1907) and later he moved to Quebec on the Gaspe peninsula in Canada. He had many children; Elizebeth, Catherine, Edward, Phillip, William, Francis, Margaret, George and John. One of these children was my grandfather George Vautier Sr. who was born in Shigawake, Quebec, Canada in 1862. He married Bridget Ellen (Ella as she was known) Jessup probably in the 1890s. George Sr. and his wife, Ella Jessup then moved out west and settled in Bellingham, Washington some time after they were married. George Sr. then left his family for some time and traveled to the Yukon in the early 1900ís prospecting for gold and attempting to seek fame and fortune. He eventually failed to do either, reunited with his family and decided to settle in Sequim Washington. George Vautier Sr. and his wife Ella Vautier then proceeded to produce a fine family of four boys and one girl. The oldest boy was my father George Vautier Jr.
Johanna OíNeill was George Vautier Jr.ís great-grandmother (Mary Morris Jessopís mother). There were two generations of Jessups: James Jessup I and his wife Bridget Farman were from Ireland according to the Jessop family history. James Jessop II was born in Canada. His wife was Mary Morris.
My mother, Allegra Vautier said that George Vautier Sr. left the family seeking his fortune elsewhere when things got tough in Bellingham. However, he did have a mining operation on the Sywash Creek in 1892 when he eventually returned to his wife. Maybe thatís where he made some of his money to support the family. Ella returned to the Gaspe with the kids at some point and lived there for a year or two while George Sr. was up in Alaska wandering around looking for gold.
Moreover it is uncertain when exactly George Vautier Sr. first went to Alaska. There is a postcard that he sent to Ella from Dawson on his way to Tanana but thatís later in 1916. He was there in 1909 & 1910 because thatís when George Vautier Jr. went to St Martins. I think the whole family was there for a while off and on. According to the Polk directory George Vautier Sr. was US Deputy Marshal in Tanana (or Fort Gibson) for a while.
George Vautier Jr. and Allegra (O'Rouark) Vautier were married in 1936 and lived at 727 Garden St., Bellingham, WA. They then moved to Iowa St in Bellingham and lived there from 1937 to 1939 where Michael Vautier was born. They then bought the farm in Everson, WA. on the Mack Road and lived there from 1940 to 1944 during which time the children Valentine, Frank, Dominic and Marie were born. Allegra had the two adopted children Daniel and James, as well to care for. Allegra became very sick.
George had a job at the Dairy which did not pay well so he joined the U. S. Corps of Engineers and worked on the drag tender U. S. Rossell. The family had to sell the farm and moved first to Ellis St. then High St. in Bellingham.
In 1945 the family again moved to Colby Ave. in Everett Wa., then to the Projects in Everett. In 1947 the family moved again to the house at 2317 Grand Ave., Everett, Wa. and lived there from 1947 until 1957. Allegra again moved by herself at this time along with her daughter to Walla Walla in 1958 and then to Portland soon after. She and George lived out their remaining years in Portland.
---
Johanna O'Neil Morris was my dad's maternal great grandmother and not his father's mother. There is a Maggie O'Neil who is listed on George Vautier Sr.'s death record in the Washington Archives. Here are some more dates:
Item 11058 02/09/1858
James Jessop, son of James Jessop & Bridget Farman Married Mary Morris, daughter of Jasper Morris and Johanne O'Neil AAB
Item 19671 10/11/1892 Newport
George Vautier son of John Vautier & Bridget Glynn New Watcom Wash, married Bridget Jessop, daughter of James Jessop & Mary Morris.
Paul Jessup, the famous University of Washington football player was Ellen Jessup's brother.
Here is a collection of Vautier postcards from our archives.
---
What follows are Vautier Photographs that I have collected. There are more at the bottom.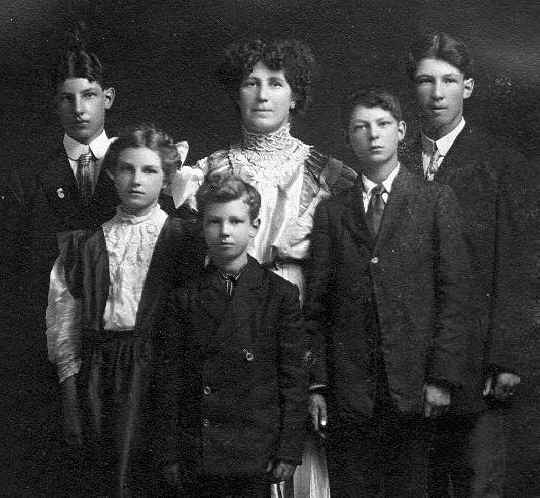 The family of George Vautier Sr. and Bridget Ellen (Ella) Jessup Vautier. Back row: Joseph Vautier, Ella Vautier, George Vautier Jr. Front: Anna Mary Margarita Vautier , Percy Vautier, Eddie Vautier.
---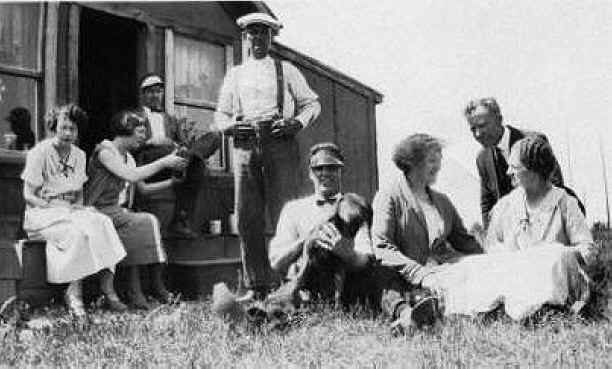 Group picture showing my dad's family and friends probably in Sequim. They are identified on the back, L-to-R: Mrs. Wold; Edna (holding Geo. Jr.'s foot); George Jr., George Sr., standing; Joseph, Ella, Mr. Wold, Mrs Johnson.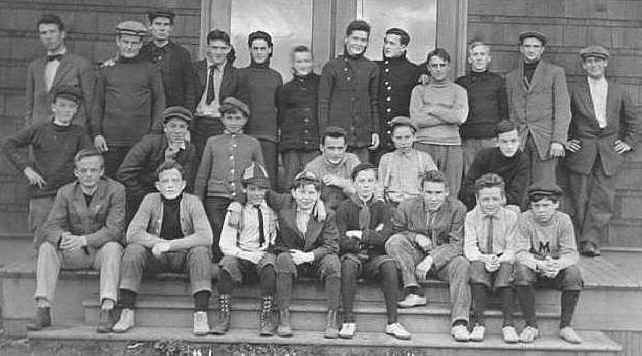 Students at St. Martinís College, Nov. 1911. George Vautier Jr. is first person on left, back row.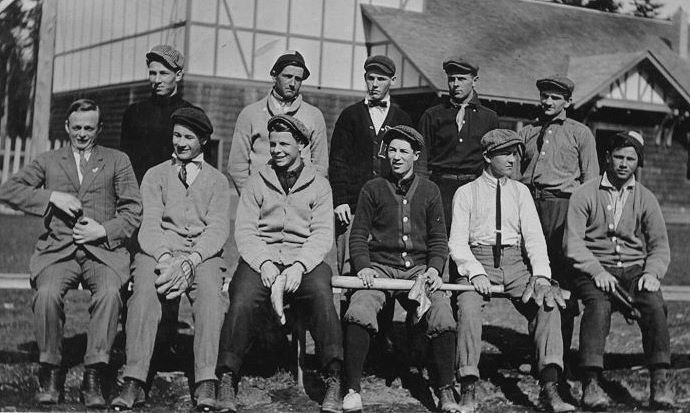 St. Martins College 1910, 11. George Vautier Jr. is first on left, standing.
---