Ocean Shores
D Vautier
1/2003
---
Washington is not particularly famous for its ocean beaches but there are a few spots on the coast that are worth a visit. After the scorching sun of Moses Lake last summer, Cyn and the rest of the family just about demanded a trip to a nice cool ocean spot. It was only fair.
In late August this year the entire state was uncharacteristically awash in sunlight (don't tell the Californians), but as we drove to within 3 miles of our destination a heavy fog cover suddenly enveloped us and was destined to remain for our entire stay (except the very last day). Well no matter. We still had a great time. So did the dogs we brought.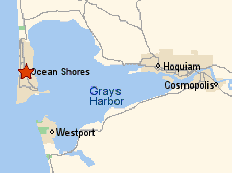 The harbor was discovered by the American explorer Robert Gray in 1792. He just accidentally blundered upon the place but missed Puget sound because of the dense fog (not unusual). He also somehow managed to discover the Columbia River. must have been on a clear day.
Ocean shores lies on the bleak northern peninsula of Grays Harbor. Until just recently it was nothing more than a flat, sand-washed sea-blown stretch of useless no-mans-land, suitable only for pigeons, pelicans, and other water birds. The area now is graced by a number of fine hotels ranging from expensive to very expensive..

That same year the Englishman George Vancouver sailed into the straight of Juan de Fuca and was able to name most of the major surrounding landmarks; Mount Rainer, Mount Baker, Puget Sound, etc.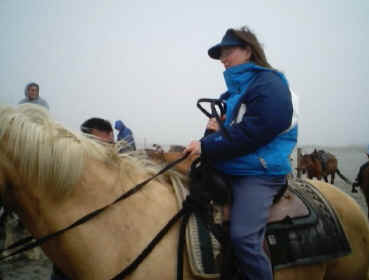 On the first day we drove onto the beach and I promptly got stuck in the sand. Fortunately somebody had a winch and got me out.
We rented some horses and Cyn got a fine horse called "Palli". Cyn is used to horses and had a real fun time on this big palomino pony.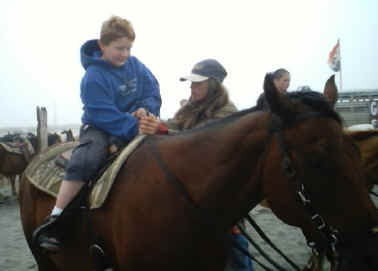 Val had never been on a horse before so he got a big gentle chestnut called "buddy" they had a good time together. Val did everything the horse told him to do.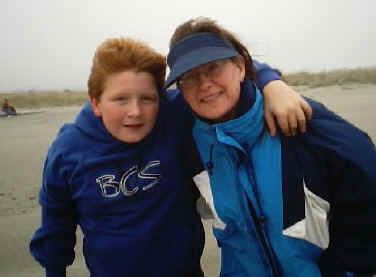 Here is another shot of Cyn riding her horse. She actually seems to know what she is doing.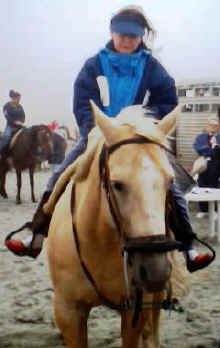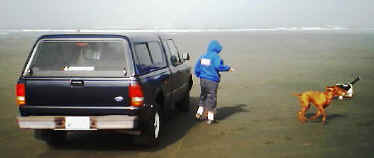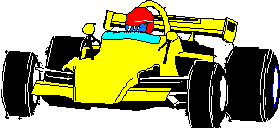 The next day we went and rented some dune buggies. I was too busy having fun to take any pictures. After a few times around the track Val got the hang of it and never looked back. He smacked into the wall a few times but enjoyed every second. those buggies have no reverse so he had to get off and pull his machine back onto the racetrack.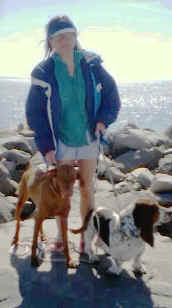 The spit north of Ocean Shores consists of a large jetty of rocks placed there by the army corps of engineers to prevent erosion. On Friday the jetty was completely deserted and the dogs got to run all over the place.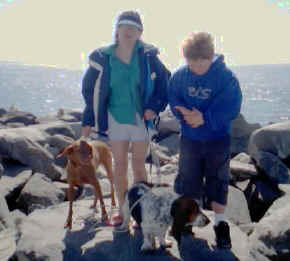 Another shot of the jetty looking south.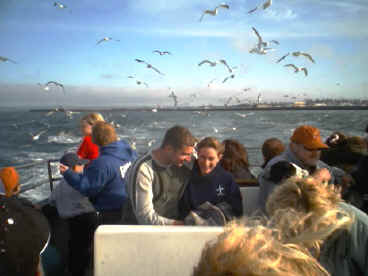 On Saturday there was some clearing and we took the fairy over to Westport which lies on the south peninsula. Westport is loaded with shops that sell all kinds of things; seashells, charms, bubblegum, candy, hot dogs, hamburgers, milkshakes, fish. It's a real tourist trap. I didn't think I have ever seen so many shops in such a small area. One antique shop had a large sign that said "No dogs allowed except the owners"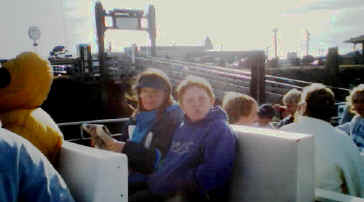 Leaving Westport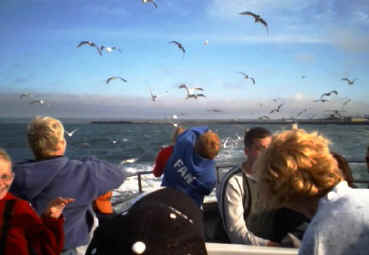 On our way back to ocean shores we were chased by a huge flock of seagulls and pelicans looking for handouts. The ship sold slices of bread that could be tossed up into eagerly waiting beaks. Here are a few pictures of Val throwing pieces of bread to them. Westport can be seen in the background.

The captain suggested that feeding occur at the back of the boat to avoid any undesirable droppings.

It was quite windy on that day and just about everybody got wet. the swells were very high. On the last day we made a number of garage sale stops. It is a tradition that everybody who lives on the Washington coast is to hold a garage sale on Labor Day.

Cyn did not want to go back to work at Boeing. Garage sales are much more fun.