The Perfect Kitchen
They never made something he couldn't afford
He had it all and still wanted more
They found him dead, stabbed in his bed
With his head on the hardwood floor
No Sad Song Helen Reddy (1972)
Dominic Vautier
01/2014
Home
---
The age-old question. What makes a perfect kitchen? I was not able to figure it out for most of my life but now we have finally built what results in the perfect kitchen. It can't be improved upon. It is God.
1) Minimum distance between dish washer and cupboards.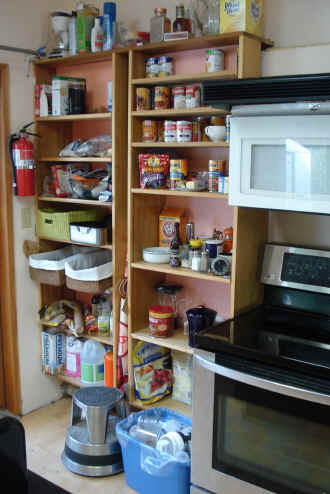 2) Minimum distance between sink and dishwasher.
3) Minimum distance between stove and refrig
4) Minimum distance between stove and working space.
5) Minimum distance between refrig and working space.
6) Minimum distance between working space and everything else.
7) Adequate working space.
8) Single sink to clean. Sprayer.
9) Minimum distance between sink and can squasher.
10) All dishes within eyesight.
11) All food within eyesight.
12) Designated place for garbage, recycs and paper.
13) Out-of-the-way dog water pan.
14) Impossible to hide or lose anything. Shelves are built shallow.
15) All shelves are adjustable.
16) Refrig can be pulled out during summer for fan cooling.
17) Clear passage through room.
18) Two micros.
19) Ready-to-hand pot rack.
20) No blind corners.
---
This place is not intended to be a showcase. It is a practical family kitchen that anyone can use immediately because everything is visible and everything is where you can expect it to be. The arrangement also has social merit because it forces a free exchange of dialog because you do not have to be turning your back on people all the time. The island becomes the centerpiece of focus. Seems to me that all kitchens need an island containing either a sink or a stove, preferably a sink since a stove requires a vent which destroys open space. This kitchen is also designed to be useful and easy to keep clean, but mostly it is a kitchen to be used constantly by a larger family day and night.