As urban legend would have it, there are two double reed instruments in an orchestra, the oboe and bassoon. I am told that the double reed uses head cavities to amplify sound quality. It also has been said that mastering either instrument takes 10 years but after 15 years you go insane and that's why good oboe players get the highest pay rate because they only have five years to make money before they go insane. Bassoon players take longer.
---
My Mikado experience left me with a great appreciation of these G&S guys. After my seminary days I became quite familiar with all the other Gilbert & Sullivan plays which had real women performers, and I often wondered why I, or at least the rest of the world for that matter, had never really appreciated these two song composers. I attended plays and watched videos. Even in my sleep I found myself bursting out into G&S song.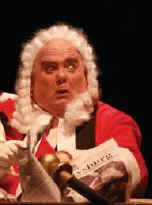 With aspect stern
and gloomy stride,
We come to learn
how you decide.
Don't hesitate
your choice to name,
A dreadful fate
you'll suffer all the same.
Mikado—First Act Finale
Come, friends who plough the sea.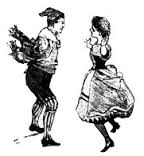 Truce to navigation
Take another station.
Pirates--With cat-like tread