Francis Joseph Vautier
1940-2014
Goin' on up to the Spirit in the sky
That's where I'm gonna go when I die
When I die and they lay me to rest
I'm gonna go to the place that's the best
Spirit in the sky - Norman Greenbaum
Before his death the doctor said to him, "Frank I'm afraid you have acute leukemia." My brother replied, "Well at least it's not an ugly one."
by Dominic Vautier
3/22/1914
home
---
obituary from Haroldnet
Mr. Francis "Frank" Joseph Vautier, 73, of Ocala, FL passed away at his residence on Tuesday, March 18, 2014. Frank was born in Bellingham, WA on May 7, 1940 to parents, George and Allegra (O'Rouark) Vautier. He was a U.S. Army veteran. He attended St Michaels College in Santa Fe, NM. He worked for over 20 years for U.S. News and World Report in Washington, DC. Frank was preceded in death by his parents as well as his brother, Dan and his sister, Marie. Survivors include his wife, Faith Vautier of 34 years; son, Jim Vautier and wife, Lynelle; son, Kevin Vautier and wife, Jamie; brother, Anthony Michael Vautier and wife, Dolores; brother, James Edward Vautier; brother, Dominic Vautier and wife, Cynthia; sister-in-law, Pat Vautier; and five grandchildren. In lieu of flowers, the family requests memorial contributions be made to either the Leukemia Society
---
Frank was my brother. My earliest memories about him start about 1948 when we used to play together and I actually realized that there were such things as big brothers. I had several. By any measure he was a good brother I suppose, always kind, always forthcoming, always protective although mom said he had a big stubborn mean streak and was always into mischief (which she also said about all her kids anyway) and he managed to get more lickings than I did but that's only because I could run faster. Frank was gifted with a very good memory and could recall details from childhood much better than I and for that reason I often encouraged him to write down some of his adventures, like the time we liked to roll an old tire into an intersection to scare the hell out of drivers. We kept doing it of course until the cops came. Great fun. And we would sneak around backyards at night, and look into windows. Nothing was beyond or above fun for my brother, like making cardboard fireplaces, and building metal kites, but alas he was torn with loyalty between my older brother Tony (Michael) and me and Tony usually won, after all Tony was older and moms favorite.
He was not very athletic, Frank wasnít, whereas I tended to be more scrappy and reckless in my continual pursuit of sports and fun, even though my own skills were nothing to exceptional. But I did too soon loose that vital connection with Frank when I went away for school.
And Frank was quite the story teller especially when he talked about his unique encounter with a ghost or when his face grew somber or the way he used his hands to explain things or when fortune and God smiled upon him standing there filling his gas tank in the very spot where the next day the DC shooter shot someone to death.
So I lost connection with Frank in 1956 after I went to the seminary and he to the army, but he was an absolute genius with electronics, something that was total Greek to me and everybody else in those early days of transistor turmoil. Frank made the first pocket transistor radio in Everett and everybody marveled at his radio made from just a cigarette case and a bunch of wires and components. He could even get KJR out of Seattle. Now that was something special!
It was later at my momís funeral that I got reacquainted with all my brothers, since my first wife didnít want to have much to do with my side of the family. And it wasnít until about 10 years ago that Frank and I began to again communicate a lot more as brothers should do.
I went to visit him in Florida in 2009 because I knew that his health was failing and I besides I wanted to see some alligators.
Frank on the right. I have one of my banty hens.

with his sombrero

.

Here is an early portrait of the four younger kids: Dominic, Tony (Mike) Joe (Frank) and Marie. Below Frank is at the left.

on the front porch

Here's our dog pupagator, a brindle English bulldog.

I was handy here doing some trick photography but it's not good chopping brothers in half

Here is Frank, his sister and pop. And of course pupagater.

Here we have Jim, Dad, Mom, then in front Frank, Dominic, my friend and half of my sister (my full sister). 1950.

This is my tree house but Frank decided to take it over. 1952.

Here is pop, Frank, Mike, Jim and Dominic at the bottom about 1955.

This is when he first got out of service around 1959.

So one day this guy comes by with this horse and me and Frank climb up. Mike has to hold the reins.

1946.

And here are some more mug shots taken 1952 and 1949.

I visited my brother in Walla Walla in 1958.

Frank, Dominic, and Mike in Walla Walla about 1957.

Frank with his dad and brother Mike in his service uniform 1956.

In St. Augustine in 2009.

And in front of the pool.
---
Frank was buried in Bayview Cemetery In Bellingham Wa, in the family plot.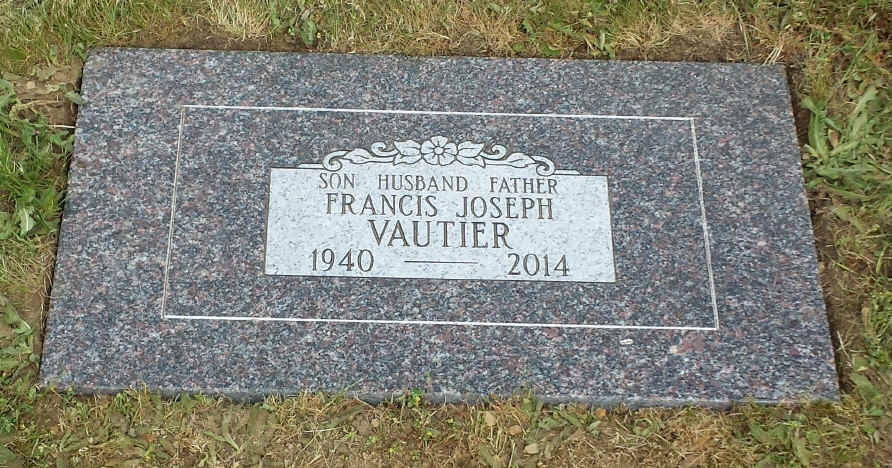 Pardon this coffin my brother just died
Now don't ya give me no ornery look or i'll knock ya down
I'm takin' this coffin and puttin' in six foot down
Roger Miller (1967) PLAY