I got a four camera home security system with SATA 1T storage. It takes a long time to read through all the obscure translations and figure out just what it does. A good guide is this schematic from the Floureon manual.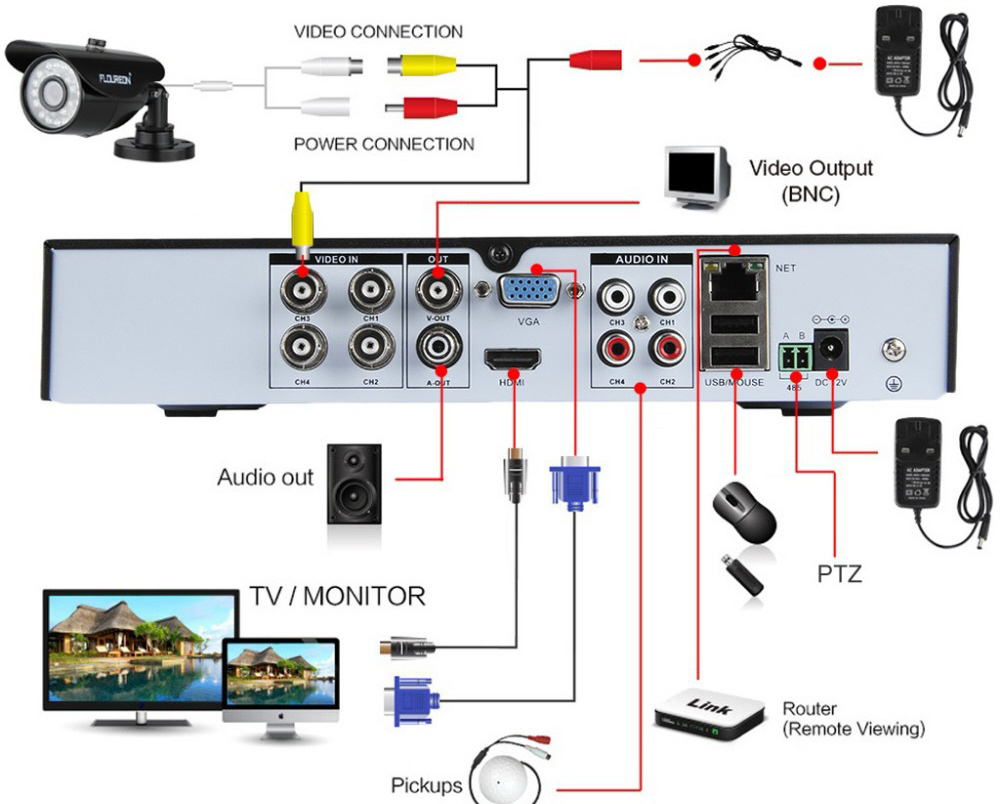 BENCH TEST
First of all set everything up on a test bench and figure out what you want it to do. The hookup is quite easy. There are several basic things that you need to learn to do before you can to install. These include setting the time, setting recording, monitoring and playback. These will be discussed later. Run it for at least a few days on the bench. If the system performs sort of adequately then you can install it.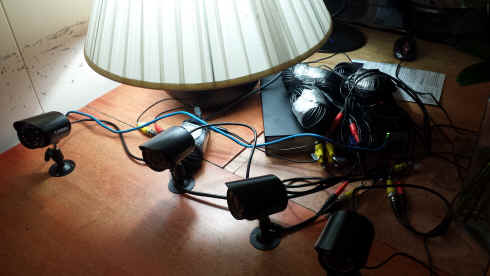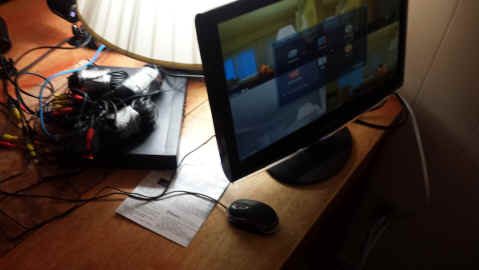 INSTALLATION
Assuming you are ready and willing to install the unit, to do any kind of a decent job you will need several items not included in the standard package:
1. Four pairs of male BNC cables. These don't cost much. I got 3 foot long cables because my DVR would be no more than 2 feet from the wall panel inside a cabinet but you may want 6 foot cables just in case.
2. Four chassis mounted female BNC sockets. These go on the wall panel.
3. One chassis mounted K2 socket which is the standard socket used just about everywhere for 12 volt DC.
4. One standard double switch electric outlet box from the local hardware store.
5. One double electric outlet cover plate. Metal is stronger than plastic. I like the metal.
6. One half foot of 3/8 inch plastic or rubber hose to weatherproof camera power jack.
7. One half foot of 1/2 inch plastic hose to weatherproof BNC Signal socket.
All of the above electrical connections can be gotten for around $20 on the web. It is a good idea to order these items immediately because the operating manual takes a long time to understand and often does not match the software. You can get the hose at any art supply store.
---
The panel box is just an ordinary double switch box. The switch plate needs four 11/32 inch holes and one 3/8 inch hole to mount the BNC and power sockets. These sized may be different.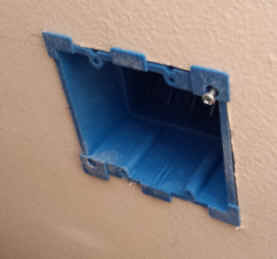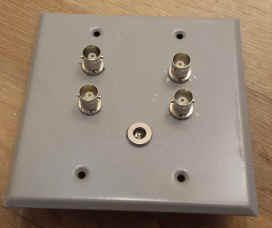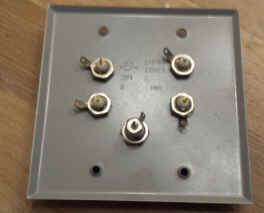 Here is what the outside connections should look like after fitted with weatherproof sleeves.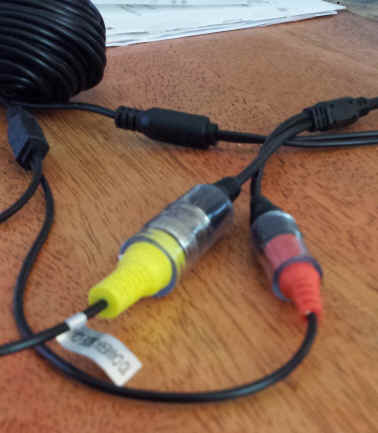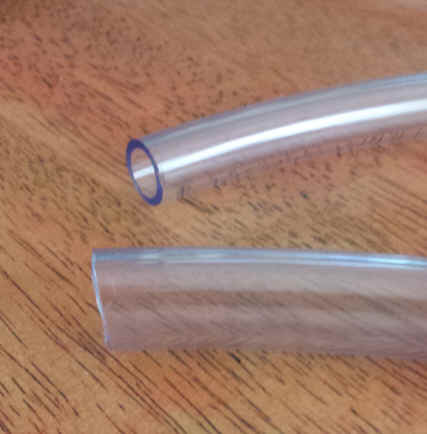 WIRING
There are tons of wire for each camera. It has to be cut and soldered to each BNC jack and the power jack. Leave several extra feet behind the wall for the panel.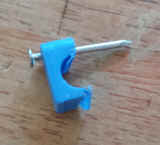 Also you need to modify the cable clamps when fastening the cable to the side of your house because the smallest cable clamp is good for 1/4 inch coax but is too big for this wire which is less than 1/8 inch. So I sanded down a bunch of clamps to accommodate the smaller wire. The wires come in bundles and you have to be careful when unwinding the bundles. Otherwise you get a huge ball of tangled wire.
Each wire connection consists of a red wire for 12 volt power, a yellow wire for signal and a bare ground that is wrapped around the yellow wire. The ground is common to the power and the signal. I soldered the four red wires to one red wire then soldered it to the plus lead on the K2 socket. I then soldered each of the yellow signal wires to the hot lead on the BNC sockets. I soldered all ground wires together to ground.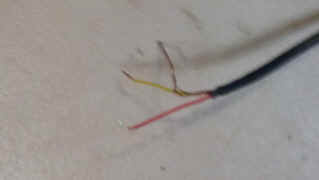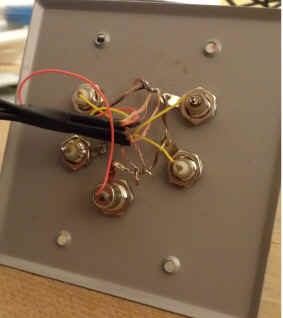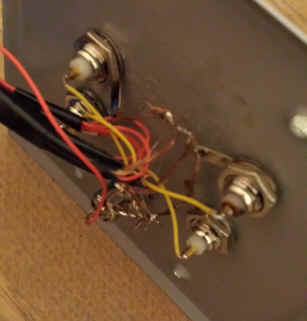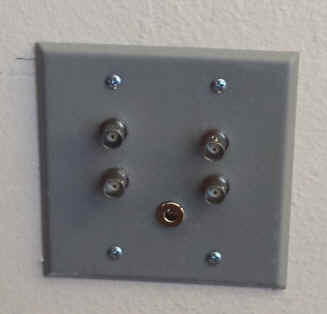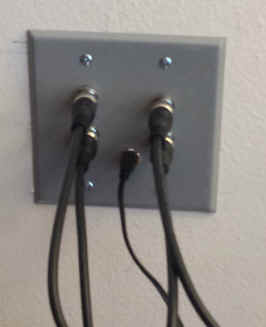 SETUP
Now that all the connections are running it is possible to use a monitor next to the front door or in a convenient place. The unit supports a DCI cable and an HTMI cable.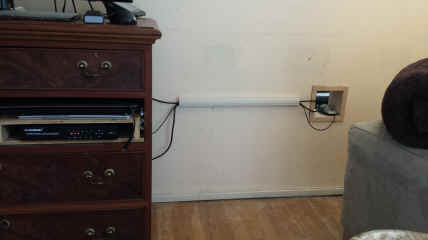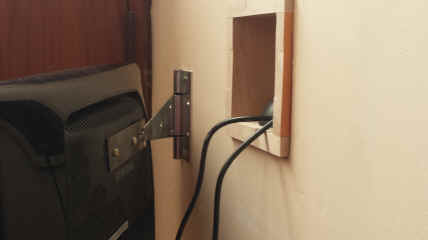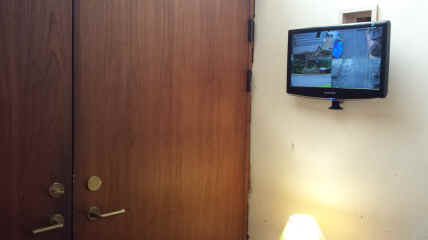 THE REST OF THIS PAGE WILL BE DEVELOPED LATER