The Perfect Bathroom

I'd regret The special love I have for you, my baby blue
Baby Blue Badfinger (1972) play it
Dominic Vautier
03/2014
Home
---
What is it?
The idea of any perfect bathroom is of course pure fiction. There are as many bathroom designs as there are people on this planet. The last place to find it is in a display model house, one of those impractical and completely imaginary rooms all cleaned up for the sole purpose of selling a house. But one thing is for sure--space--and the obvious fact is that average bathrooms built fifty years ago like ours were just simply too small. Our two upper full bathrooms were like this, originally 5 by 9 feet, a not uncommon dimension for middle-income older houses, but today this size is almost impossible to use because fixtures are bigger today. So a few years ago our family began to develop plans for our perfect bathroom or two or so and our main consideration was exactly how much room we were willing to sacrifice from the rest of the house and in which direction. After much consideration we decided the two upper bathrooms could be expanded to 5 by 13 1/2 feet. This is the space we needed for:
1) Full 38 inch glass shower.
2) Slipper bath.
3) Single sink with room to expand to double sink.
4) Two or more large storage shelves.
5) Skid-resistant heated porcelain floor tile. Porcelain is very hard.
6) Two ceiling vents on separate timers.
7) Mounted hair dryer.
8) A solution to the everlasting toilet paper problem.
9) Other goodies.
---
Layout
This is in no way intended to be a showcase--far from it. It's still under development as is everything around here. I took these pictures without any cleaning up or prior preparation. the pictures are intended to show the life and times of a living breathing family bathroom that anyone can use immediately because everything is visible and everything is close by and the place is very well lighted and there is no place that mold or mildew can form. Also there are no hidden rusty shelves hiding behind mirrors and all paint is white.
So how do you arrange a 5 by 14 foot bathroom without it looking like a pullmen car. Simple. Things that go in corners go there. The rest doesn't and the result is a nice comfortable minimalist environment.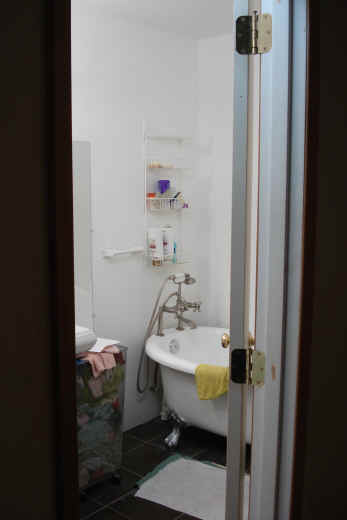 ---
Entrance
The 32 inch door was positioned so that it opens with maximum clearance to the toilet and sink. I actually had to move it. Nobody can get the door right the first time. This also seems to apply for lights and power outlets and mirrors. It seems that all the planning in the world does not get things quite right. We eventually decided on two rows of lights over the sink and toilet.